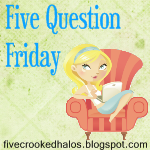 WoW
! Exactly a month since my last post and I'm going to revert to my usual "Five Question Friday" staple. Life has just been one
cRaZY
thing after another since the boys and I were in the play. Here are just a few highlights:
I turned 51. Woo

Hoo

!!
I may be losing yet

another

job (but positive thinking is leading me to new possibilities!)
My brother was stabbed and almost didn't live to tell the tale (a couple of

flat lines

in the OR and a VERY long scar from his sternum down past his bellybutton are evidence)

My youngest brother and his family were here for a visit (I haven't seen them since 2007)
And . . . I'm set for ONE more surgery on my shoulder. And this will be the last one . . . absolutely . . . positively!!
PHEW! I think that's enough for the summer.
Now . . . on to the questions for the day. If you want to play along, copy and paste the questions to your blog (or just answer them in my comments area), link back to the fabulous
Mama M
and you're all set!
1. What were your school colors?
♫ We are the Tigers. Mighty, mighty Tigers ♫

Can you guess our colors? Yep . . .

Black

and

Orange

. One year I decided I wanted to turn my lovely, dark, brunette hair . . .

BLONDE

! If you know anything about hair coloring, you just can't do that. So in keeping with school spirit, I ended up with . . . you guessed it . . .

ORANGE

HAIR! I tried quickly dying it back and ended up with brunette hair from my crown to my ears and orange hair from my ears to my shoulders.

YAY

! Go Tigers!!
2. What's the best compliment you ever received?
I used to be a college advisor at Purdue University. I LOVED that job and working with students is fun and satisfying. You hope you're doing some good for them and not just contributing to their weekend drunken brawls. I was 44. Most the students were 19-23 years old. One day one of the cute 22 year old grad students that I knew well, came to my office and asked me out. You should have seen the big grin on my face. When I told him I was old enough to be his mom . . . you should have seen the look on HIS face. Thanks, Tripp, for the nicest compliment a woman could ask for!


3. Do you buy cheap or expensive toilet paper?
I buy in bulk from Costco. I'm not sure if that's cheap or expensive because believe it or not, I have an allergy to toilet paper and their 2-ply brand keeps my "nether regions" happy, happy, happy.


4. Have you ever had a surprise party thrown for you? Or have you had one for someone else?
My husband threw a surprise party for my 40

th

birthday. I had gone to a craft fair, walking around in 100 degree weather and came home hot and sweaty. I couldn't get in the front door, nor would the garage door open. Needless to say, as I came around the back of the house I was a little perturbed. The guests were on the back patio . . . 3 couples that my husband (now
ex
-husband) thought I knew well. I didn't. Oops.


5. What is one material possession that you "can't live without"?
Most things I'm coming up with, I probably
could
live without. But as I'm sitting here in the kitchen I'm listening to my bottom freezer, french door

refrigerator

getting ready to dump some ice in the bin. I LOVE . . . not just like . . . or occasionally want . . . but LOVE ice.

Preferably

pebbled ice (the kind you can get at
Sonic)
but crushed ice works just as well. I don't think my family appreciates my culinary choice . . . as I DO get the "stink eye" from them when I'm crunching away.
Your turn. I'd love to read your answers. Link up, have a terrific weekend, and enjoy what's left of summer.