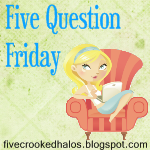 It's Five Question Friday again. How does this happen? I think I'm going to blog something wonderful and profound during the week and I get busy with other things. This week it was being sick again. I don't think I'm too happy about getting old!!! Anyway, have a crack at the questions Mama M has put up for us. If you want to join . . . I'd love to know more about you. Or just leave a comment for me :)

1. Have you ever had a celeb sighting?


I've had several. Layover in Chicago O'Hare . . . sitting in a new construction area of the airport . . . hardly any people . . . coming up the escalator an older gentleman bracing himself up on either side of the rails and swinging his legs . . . Bob Hope. My brothers followed him in to the Men's room and got his autograph . . . which I still have.

A few others: All the members of Spinal Tap (Christopher Guest, Harry Shearer, Michael McKean); 60's group Jan & Dean; Wolfman Jack; Magic Johnson (I followed him around Venice Beach, once); worked once with Donny & Marie; was in line at the DMV with Gene Hackman; met Charlton Heston, as well as Boss Hog from Dukes of Hazzard; country singer Gary Allen (I was the Asst. Director of the preschool his children attended); when I worked for PBS I interviewed Jim Brickman and met the cast of Sesame Street; and when I worked at CNN I met Pres. Regan, Pres. Carter, Pres. Ford, Anwar Sadat, Ted Kennedy, and a whole list of other famous politicians. Probably more than y'all wanted to know, but not many people know about my long list. Now you do!


2. What temperature do you keep your house?


Ok . . . this is another one of those things in our house that is a constant battle. The thermostat usually says 68 degrees in Winter, but if you're upstairs it feels more like 80 and downstairs feels like 50. I will turn it up if I'm home so it's around 69, but as soon as the dear husband comes homes he'll turn it down to 65, OR LOWER! In the Summer I like to keep the A/C at 72 because we don't get direct sun downstairs and it stays pretty cool. Again, as soon as the dear husband gets home the A/C goes down to 65. UGH!!! Last year on Good Morning America I remember they did a story about men and women and how the thermostat causes problems at home. I SO related to that!!


3. Do you notice dust at other peoples homes?


I don't think I really do . . . except maybe when I go home to my parents. Weird that I notice it there and nowhere else.


4. What's the worst job you ever had?


Hmmm . . . this is a tough one for me. I've really liked my jobs; it's been the people I work with on a couple of jobs that made it really difficult. But if I had to choose ONE job I'd say working my job in high school where I had manure flung at me, glue used for putting tags on cattle thrown in my hair, and ketchup packets exploded in my face. These guys were really just flirting with me . . . but they sure showed it in immature ways!


5. What is your most sentimental possession?


My grandmother passed away in 2006 and I was lucky enough to get her "Grandchildren" charm bracelet. She had this bracelet from the time she had her first grandchild. Each of us had a boy or girl profile charm with our name and birthdate engraved on it (there are 38 charms). I loved that bracelet growing up and now I own it . . . thanks to my mom :)


Your turn.